COMPLETED
Storytelling with Anagha and Tarini
Sunday, 22nd November 2020 4:00 PM - 5:00 PM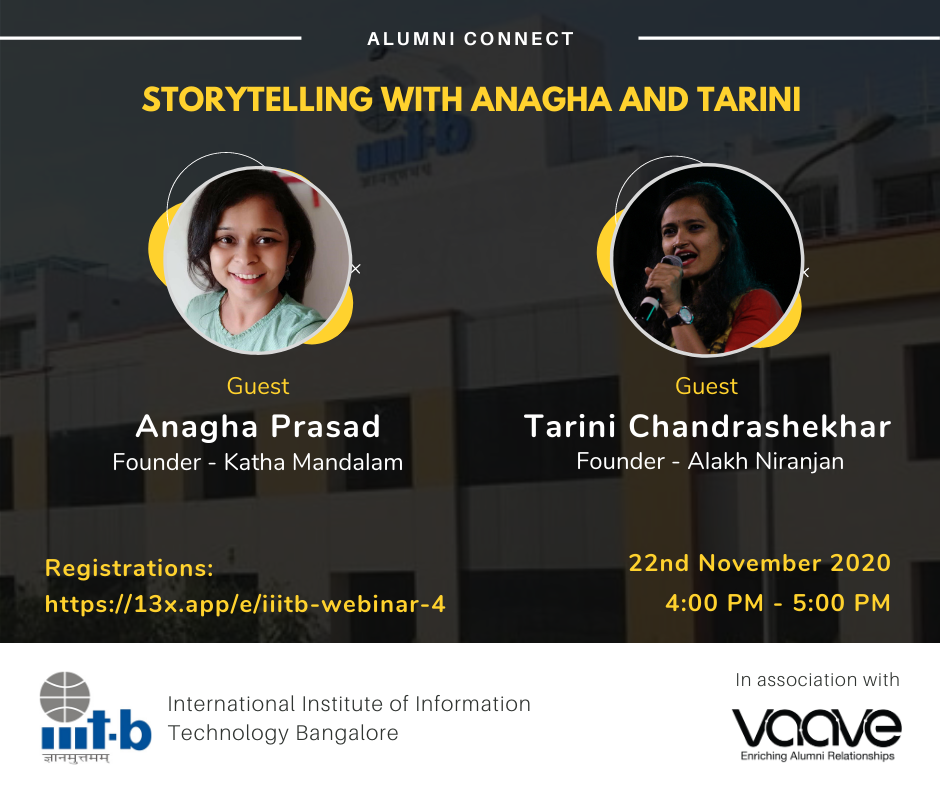 Storytelling with Anagha and Tarini
IIITB Alumni Council proudly presents IIITB Alumni Connect. It is a monthly event where members of the IIITB alumni community can engage, learn, and share together. Our Alumni now is 3000+ strong spread throughout the world and there is a lot that we can learn from the collective experience, knowledge, and wisdom. So if you would like to contribute, get in touch with the IIITB Alumni Council through email.
This time we have our very own alumni Anagha and Tarini in a fireside chat where they will share the importance of storytelling and how you can implement it to your life and also mesmerize us with their performance. The session is scheduled on 22nd November 2020, 4 PM IST.
Guest Profiles
Anagha Prasad, an alumna of IITB(4th batch) is a professional storyteller and a certified Yoga instructor for the past six and half years and gets children and the "kids at heart" hooked on to her and her stories. Having worked in the IT industry for 10 years, she shifted her tracks when her calling of life came to light. Trained from Kathalaya and A 1000 Yoga, her unique style is of blending storytelling with her love for yoga.
During the course of her storytelling journey, she has conducted 1000+ sessions across the country and for global audiences of various age grounds from preschoolers to senior citizens in various genres of stories. Her specialty sessions include intertwining asanas within the story narration for people of all age groups. She also conceptualizes & conducts teacher training programs & storytelling workshops for schools, individuals, and corporates.
She is a founding contributor of a unique value education startup delivering customized value curriculums to schools across the country. An early contributor to a yoga startup delivering yoga classes to Indians in the EU & US through video sessions. She has also explored collaborations with other storytellers- their productions - "Maanini" a unique online performance on women in Krishna's life with a blend of storytelling and Bharatanatyam, Bala Leela - Krishna temple stories,"we" the victory - stories across genres exploring various aspects of victory.
All the three passions of her - storytelling, yoga, and dance though seems very different, have blurring lines. Benefitting from this and to a broader audience, she has started Katha Mandalam. Under Katha Mandalam's umbrella, she blends her passions together to entertain, empower and enrich her students and audience.
Tarini Chandrashekhar, a 2018 graduated MTech alumna is an ex-data scientist who, after a year and a half into her job, realized her calling - storytelling and comedy. A year in, after quitting her job, she dabbled in comedy, comic poetry, and storytelling.
She founded Alakh Niranjan as a platform for kids to learn through stories and narratives. Her method involved a dramatic narration along with interactive play that engaged kids visually, aurally, and kinesthetically. She is a self-taught storyteller and is has conducted online storytelling sessions and poetry workshops for kids.
An avid consumer of content and humor, she translated her love for humor to stick figure comics called LaaliPooli, which she is now in the process of developing into long-form blogs.
She has been a student of Bharatanatyam for 15+ years and continues to explore it. Recently she wrote the lyrics to the water conservation anthem, 'Jal Shakti' which was sung by Shankar Mahadevan, and performed a solo for the platform The Red Collective.
She is looking to write, direct and perform more and through various mediums in the future.
Share with your friends who might be interested