COMPLETED
Innovative Marketing Strategies in Post COVID world
Friday, 26th June 2020 5:00 PM - 6:00 PM IST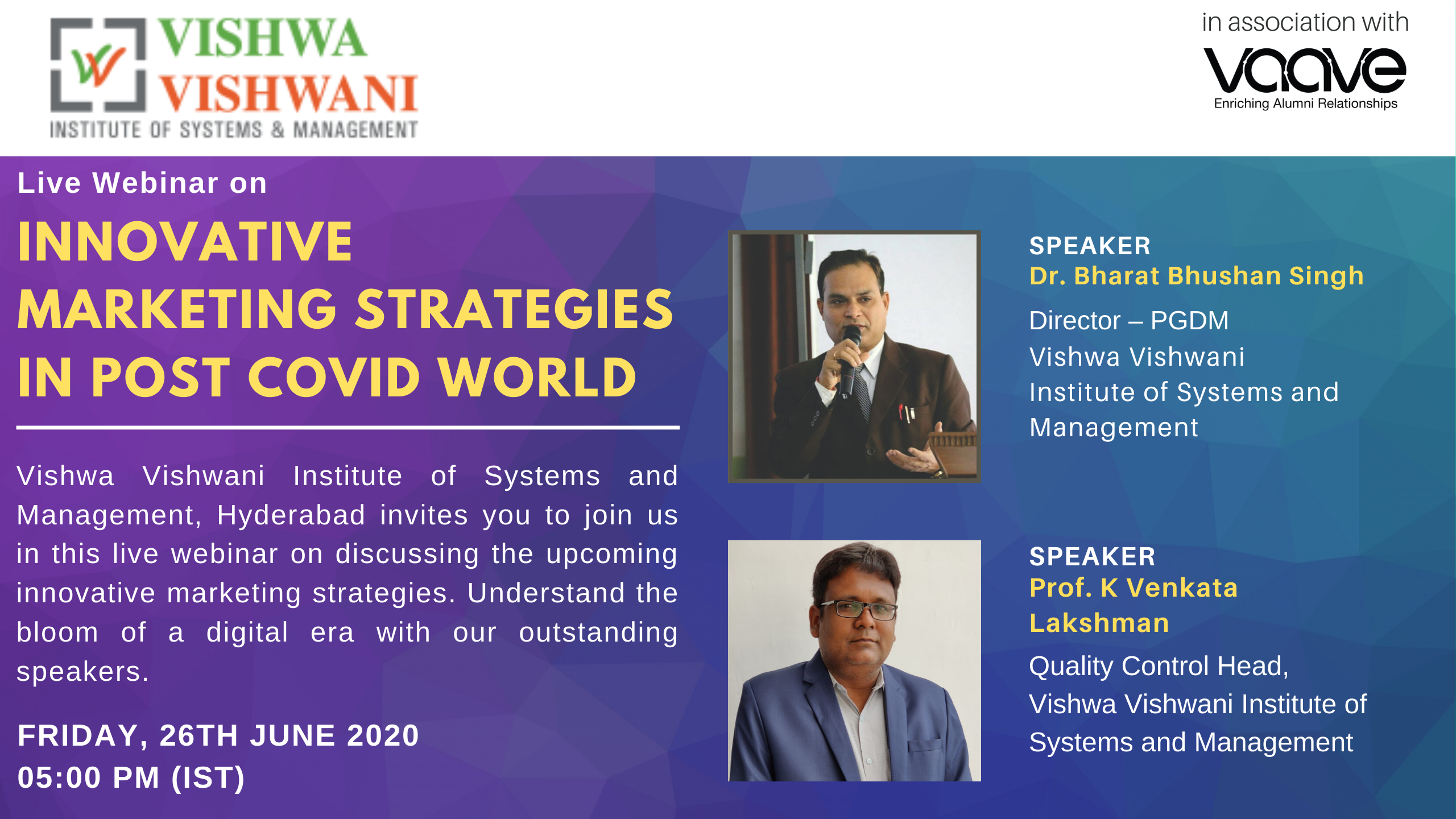 With a major shift in the Digital Marketing era, we are moving towards the world of digitalization. Banking sector to the education sector, services are made available with a single click away. Online marketing plays a major role in connecting the right audience to the right service. But how do you understand the upcoming era of digital bloom?
To answer all your questions on online marketing like"What are the major expected changes in marketing strategies? How to take your product to the right audience? How am I going to compete with the multiple stakeholders in the industry?" Vishwa Vishwani Institute of Systems and Management, Hyderabad proudly welcomes Dr. Bharat Bhushan Singh and Prof.K Venkat Lakshman to join with us in a live webinar on The Innovative Marketing Strategies in Post COVID World. Join us in this live webinar on discussing the upcoming innovative marketing strategies for students.
About the speaker
Dr. Bharat Bhushan Singh, MA, MBA, M.Phil, M.Sc (Psychology), FDP (IIM-K), PhD Professor in Marketing & Strategy Director – PGDM
Dr. Bharat Bhushan Singh, Professor of Marketing and Strategy, is a Doctorate in Management and holds triple Master's Degrees in the areas of Political Science, Management, and Psychology. He is an India Air Force Veteran with three decades of industry and teaching experience. He is a qualified management teacher and researcher trained at IIM Ahmadabad, IIM Kozhikode and IIT Bombay. He is a certified case instructor from Harvard Publishers and IIM Ahmadabad. He has published many research papers in various national and international journals. He is also on the editorial board of many management journals. Dr. Bharat, a passionate trainer, speaker, author, and coach, has trained mentored and coached thousands of Engineering and Management students, faculties, and corporate professionals on shaping life, driving performance, and achieving success. Dr. Bharat believes that being a champion in college and becoming a champion in life are the, two different ball games. While academic hard work makes you succeed in college; in life, you need to master many other skills. A practicing Graphologist, and sports enthusiast Dr. Bharat believes that
"We are born to do tough jobs and expect challenges."
Read his book here at Link
Prof. VENKATA LAKSHMAN. K
With 3 years of Industry experience in the FMCG Industry and 15 years of rich teaching experience, Presently Prof. Venkata Lakshman works as Quality Control Head, at Vishwa Vishwani Institute of Systems and Management (PGDM) and he's the former Program Coordinator (PC). Trained on "Teaching With Cases" offered by Harvard Business Publishing and IIMA Case Centre, he also visits Symbiosis Law School, Hyderabad. Awarded as the Best Teacher in 2018, Prof. Venkata Lakshman also excels in handling Marketing Management, Promotion and Distribution Management, Supply Chain Management, Consumer Behavior Services and Retail Marketing.
You can follow Dr. Bharat Bhushan on LinkedIn and Prof K Venkat Lakshman LinkedIn
Share with your friends who might be interested